Dog Has Hilarious Reaction When He Realizes The Baby Pooped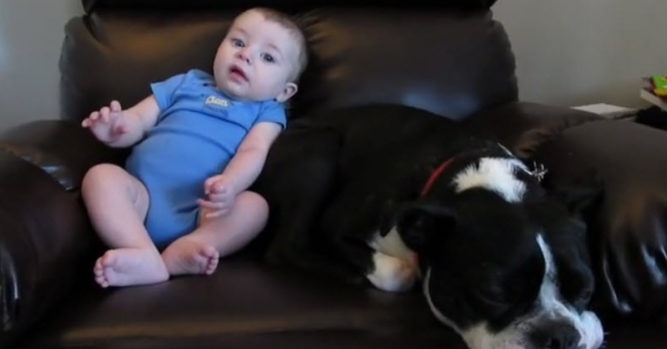 There are many things that we may appreciate about life but when we have the opportunity to see a newborn baby snuggled up with an animal friend, it is just something that seems to warm our heart. They seem to be so comfortable with each other and when they have that bond early in life, it is something that will follow the child for a lifetime.
When you watch the baby with the animal companion in this video, you will see right away that they are quite accustomed to having each other around. The black-and-white dog's name is Max and he is enjoying a nice nap on the easy chair. His baby sister, Hollis is resting nearby and the mother decided she would capture the moment in a video. It was almost too perfect to believe but the perfection only lasted for a few seconds.
When the mother started recording, she notices that Hollis is trying to poop. You can hear her giving some gentle encouragement to the baby as she reaches over to pet the dog nearby. Suddenly, the baby is able to get a full release and the fart that goes along with it gets the attention of Max. He wakes up, takes a look at the baby, sniffs the air and jumps off of the chair immediately.
It seems as if Max didn't want to stick around very long when the air was getting difficult to breathe. His reaction is perfect and it is sure to make you smile. You can watch it right here in this video: