The port of Ouesso, in the Republic of Congo, sprawls along the east bank of the Sangha River, a wide, murky stream that winds through the heart of Africa. One recent morning, a crowd gathered around a rotting dock in the harbor to gape at the sight of seven white men stepping gingerly into a 30-foot-long pirogue. Carved out of a tree trunk, and barely wide enough to accommodate a person with knees squeezed together, the pirogue rocked dangerously and seemed about to pitch its passengers into the oil-slicked water. Then it steadied itself, and we settled onto blue canvas folding chairs arranged single file from bow to stern. The shirtless captain revved up the engine. The slender craft puttered past clumps of reeds, scuttled rowboats and an overturned barge, and joined the olive green river.
We were heading upstream to a vast preserve in the Central African Republic (CAR), and between here and there lay 132 miles of unbroken rainforest, home to elephants and western lowland gorillas, bongo antelopes, African forest buffaloes, gray-cheeked mangabeys and bush pigs, as well as soldiers, rebels, bandits and poachers. Leading our group was Nir Kalron, a 37-year-old former Israeli commando who has built a thriving career selling his military expertise to conservation groups and game parks across Africa. Kalron's sidekick, Remi Pognante, served in French military intelligence in Afghanistan and Mali. They were joined by a three-man documentary film team from the United States and Spain, the photographer Pete Muller and me.
Kalron had been working to rescue several thousand forest elephants in the Dzanga-Sangha Reserve, 1,544 square miles of rainforest in southwestern CAR. The smallest of three elephant species, with oval-shaped ears and straighter, downward-pointing tusks, these creatures inhabit the densely wooded rainforests of Liberia, Ivory Coast, the two Congos and the Central African Republic. But nowhere is their predicament worse than in CAR, site of one of the continent's most notorious animal slaughters: the massacre three years ago of 26 forest elephants by Sudanese ivory hunters wielding semiautomatic rifles.
Shortly after the killings, Western conservationists based in the neighboring Republic of Congo asked Kalron and the security firm that he founded, Maisha Consulting, to protect the remaining elephants. Through a unique combination of gritty freelance diplomacy, high-tech surveillance and intimations of powerful connections, Kalron helped quiet the violence. Today, according to the World Wildlife Fund, which administers the park alongside the CAR government, Dzanga-Sangha is one of the few places in Africa where "elephant poaching is now rare"—a little-known success on a continent plagued by illegal animal killing.
The killing in Zimbabwe of a protected lion named Cecil by a U.S. trophy hunter last July sparked justifiable outrage worldwide, but the far greater crime is that heavily armed gangs, working with sophisticated criminal networks, are wiping out elephants, rhinos and other animals to meet the soaring demand for ivory, horn and the like in China, Vietnam and elsewhere in the Far East. Between 2010 and 2012, ivory hunters shot down an astonishing 100,000 elephants across Africa—more than 60 percent of central Africa's elephant population has been lost during the ten-year period beginning in 2002—according to the U.S. National Academy of Sciences. To counter that unprecedented decline, governments and other wildlife custodians have increasingly adopted a range of military tactics and farmed out work to private companies. Some of these outfits specialize in training park rangers. Others deploy state-of-the-art radar, supersensitive buried microphones, long-range cameras and drones to monitor protected areas. But even the experts agree that Maisha (Swahili for "life") operates in a class of its own. It offers what Kalron calls "one-stop shopping," selling intelligence, surveillance equipment, military training and even conflict resolution in Africa's hardest-hit region.
"We've got people on our staff from every discipline—analysts from the inner sanctum of Israeli intelligence, special operations guys, technical experts," says Kalron. "We've got Arab speakers, Somali speakers, Hausa speakers. Each person is at the top of his field. They join us not only for the money, but because they have an emotional stake in the work." When it comes to poaching, he adds, "if you don't say, 'I want to get these guys,' then you're not for Maisha."
I've covered poaching in Africa for more than two decades, from Kenya to Zimbabwe to Chad, observing how a brief period of hope in the 1990s and early 2000s gave way to the horrifying wanton slaughter of today. It strikes me that Kalron's approach, which is not without controversy, is worth looking into. Can a privatized army apply the techniques of counterinsurgency to the conservation wars? Or do such militarized tactics invite only more disorder, while failing to address the economic and social roots of the poaching problem?
So I grabbed the chance to join Kalron on a journey to the site of the forest elephant massacre to gauge the impact of his interventions there. As it happened, that's where I ended up running through the forest to save my own life, confronted by an unappreciated dimension of the poaching epidemic, what I've come to think of as the revenge of the wild: the hunted turned hunter.
**********
Still in the Republic of Congo, we motored up the Sangha in our canoe, passing unbroken tropical forest, and stopping in the port of Bomassa near the border. We climbed the riverbank for a call at the headquarters of Nouabalé-Ndoki National Park, where Kalron and his fellow former commandos have been training Congolese rangers.
When Kalron initially took on that job, he told me as we walked up the muddy steps, he was surprised that the rangers were not just inept from a lack of training but also physically weak. "These guys had manioc muscles," said Kalron, referring to the starchy, low-protein Congolese dietary staple. But the rangers were accustomed to hardship, and Kalron and Pognante got them to run miles each day and practice wresting poachers into custody.
The Maisha team also, as discipline for being late, divided them into groups of eight to carry a half-ton log. If the rangers spoke out of turn, Kalron and Pognante sealed their mouths with duct tape and had them sing the Congolese national anthem. "We didn't try to break them mentally, but that's what happened," Kalron said. Over six weeks, though, only one ranger dropped out. "These guys professionalized our anti-poaching teams," says Mark Gately, the Wildlife Conservation Society country director for the Republic of Congo, who hired Kalron and Pognante. "I don't know of anyone else who could have done the job they did."
As we continued motoring upstream, Kalron pointed out a Cameroonian Army post on the west bank, where, he says, soldiers fired AK-47s over his head in a (failed) shakedown attempt on one of his last trips. A few miles farther along, we reached the border. A tattered Central African Republic flag—bands of blue, white, red, green and yellow—fluttered over a shack. Scrawny chickens pecked at weeds; a rusting sign urged "Prevent AIDS by Abstinence."
CAR, which freed itself of French rule in 1960, ranks at or near the bottom in every category of human development, weighed down by decades of exploitation, corruption, violence and poverty. The recent surge in animal poaching is linked to the political chaos. In 2003, former army chief François Bozizé seized power with the support of Chad's oil-rich president, Idriss Déby. But when the relationship ruptured, in 2012, Déby encouraged a coalition of mainly Muslim rebels—Muslims make up 15 percent of CAR's population—to seize control of the country.
The coalition, called the Séléka, hired Chadian and Sudanese mercenaries, and they captured the capital, Bangui, in March 2013. It was just two months later that, with the Séléka's apparent complicity, 17 Sudanese ivory hunters invaded Dzanga-Sangha, climbed a game-viewing stand and gunned down 26 elephants, hacked out the tusks and left the corpses. Exactly what became of the ivory isn't known, but the best guess is that the poachers trucked it to Bangui or across the border to Sudan, from which it was smuggled to the Far East.
(Months later, the Séléka were driven out of Bangui by a mainly Christian paramilitary group, the "anti-balaka," which massacred numerous Muslim civilians and drove nearly half a million people from the country. Now CAR is run by a newly elected government committed to stabilizing the country after an interim period overseen by 6,000 African Union peacekeepers and a few hundred French special forces. Some of those troops remain on the ground.)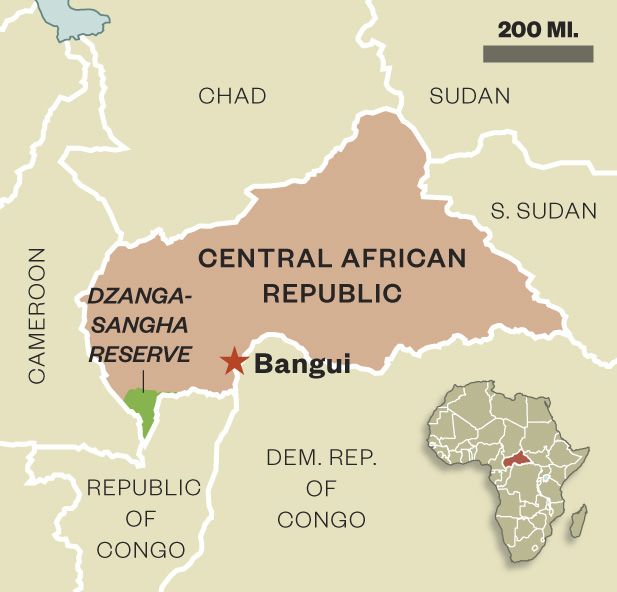 When Kalron first arrived at the scene of the forest elephant massacre, the meadow was littered with skulls, bones and rotting pieces of flesh. Seeking advice and contacts on the ground, Kalron had phoned Andrea Turkalo, a Cornell University-affiliated conservation scientist who has studied elephants at Dzanga for more than two decades. She was in Massachusetts after fleeing the park for the first time in 26 years: "I got this call out of the blue. I said, 'Who the hell is this?' Nir said, 'We're going to go in and see what we can do.' I said, 'What?'"
Turkalo urged Kalron to get in touch with a man named Chamek, a Muslim who owned a small shop in Bayanga, the town nearest the park. He and a small group of traders had established good relations with the Séléka militia, persuading the rebels to respect the local population.
With Chamek making the introductions, Kalron and his crew, including French and Arabic speakers, met the Séléka commander in front of his men. They proffered manioc and pineapples, and handed out boxes of anti-malaria tablets and first-aid kits. After several more trips, and more bestowing of gifts, including shoes, a Koran and a pocketknife, they extracted a promise from the rebel commander and his men to protect animals in the park from further poaching.
Kalron and his team also recovered spent AK-47 cartridges at the elephant massacre site—and shed new light on the atrocity. The cartridges matched ones that they'd found at another elephant killing ground, Bouba Ndjida National Park in Cameroon, where poachers killed as many as 650 elephants in 2012. Cartridges from both sites were manufactured in Iran and used almost exclusively by paramilitary groups with backing from the Sudanese government. "The evidence gave a compelling portrait of a Sudanese poaching gang," says Varun Vira of the Center for Advanced Defense Studies (C4ADS) in Washington, D.C., which put out a report based on Kalron's fieldwork and briefed the U.S. Congress and State Department on the crime.
via IFTTT