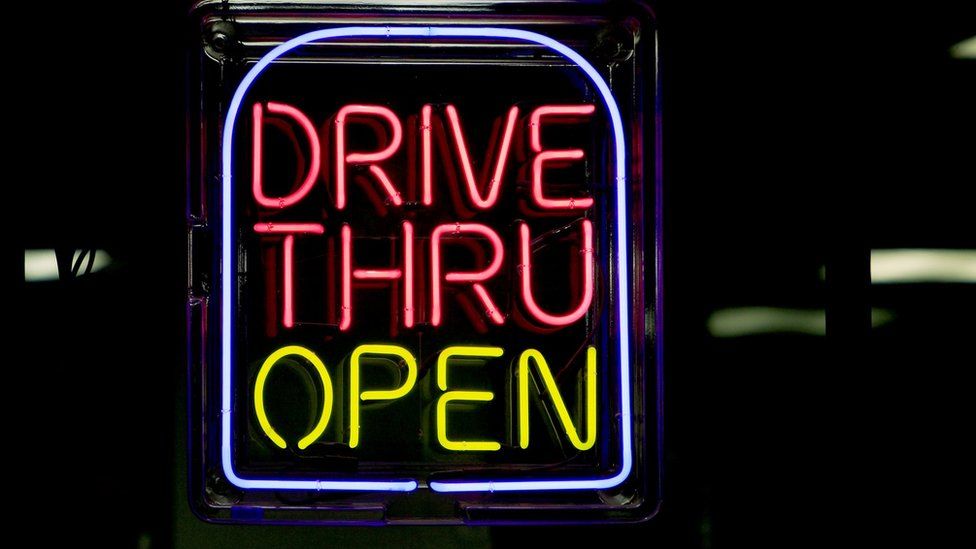 A community in northern Minnesota is in shock after a random act of kindness led to more than 900 cars paying for each other's meals at a drive-through.
Over two and a half consecutive days, Dairy Queen customers in Brainerd surprised the driver behind them by buying them a meal.
The restaurant's manager says this type of "pay-it-forward" chain sometimes happens, but never for so long.
It all began spontaneously during Thursday's lunch rush, say employees.
Tina Jensen, who runs two Dairy Queen restaurants in the city 130 miles (210km) north of Minneapolis, says that one man asked the cashier if he could buy his own meal, as well as the meal ordered by the stranger behind him.
"There's all different types of ways to help people," Ms Jensen told CNN. "I think this touched a lot of people that we didn't even know it touched, deeper than we know. And you don't know what's going on in a person's life."
Overall, more than $10,000 (£7,500) in sales took place, with the chain ending sometime Saturday evening.
"We started just asking and encouraging and letting them know, you know, 'It's been five cars, it's been 15 cars, it's been 30 cars," assistant manager Sandra Quam told CBS News. "And you know people starting getting excited about it and it just continued."
When the restaurant closed on Thursday, the last customer left $10 to keep it going the next day. The same thing happened again on Friday night.
The "Christmas Spirit" incident was tracked live on the Dairy Queen Facebook page. After 500 consecutive cars, the page posted: "What a great community we live in."


The charitable act raised spirits at the drive-thru, which like other restaurants, has struggled during Covid lockdowns. With dining rooms closed, more fast-food diners have been flocking to drive-through locations since the pandemic began.
"Our kitchen crew was like, 'Are we really still going?' I said, 'Yep, we're still going,'" Ms Jensen told NBC.
"Especially now and how things have been going this year, it definitely helped us here in the store with our crew members. Very excited for them."
"No matter what hard times anyone is going through," she continued, "just take care of each other, you know, that's what it is… take care of each other."
via IFTTT