With almost 200 children missing in Northeast Ohio, the US Marshals Service rescued 25 missing and endangered children between the ages of 13 to 18 years under "Operation Safety Net" in Ohio, reported The Blaze.
In a conversation with WOIO-TV, US Marshal Peter Elliott said, "These are kids that have been abused, neglected. Some involved in human trafficking." He also mentioned that in most cases "the situations they — they go to, believe it or not, may be better than the situations they left from" because they've overlooked cases where "the mother and or father, or both, may have been prostituting their own child."
Explaining their seriousness towards the welfare of these children he said that they were immediately provided with the required medical care and added the operation "will be something we'll be doing every year. This is our first time we have done this, it's been uncharted territory for us, but we've had great success."
According to Mansfield News Journal, the US Marshals in "Operation Safety Net" are being provided with assistance from the Northern Ohio Violent Fugitive Task Force, Cleveland Division of Police, the Cuyahoga County Sheriff's Department, the East Cleveland Police Department, and the Newburgh Heights Police Department.
With the goal to find about 200 missing children from Northeast Ohio, the operation is likely to continue for a few more weeks. Darby Kirby, chief of the Marshals' Missing Child Unit told USA Today through an e-mail that a two-week operation is currently going on near Indianapolis.
Any additional information about the missing children can be provided at the U.S. Marshals tip line at 1-866-492-6833.
It was only recently that the US Marshals Service rescued 39 endangered children in a sex-trafficking bust in Georgia. The U.S Department of Justice announced that the bust was dubbed under the "Operation Not Forgotten."
The operation was led by the US Marshals Service Missing Child Unit along with the help of the agency's Southeast Regional Fugitive Task Force, the National Center for Missing and Exploited Children (NCMEC) and Georgia state and local agencies. The two-week operation took place in August in Atlanta and Macon, Georgia, to rescue the children who had been endangered and missing.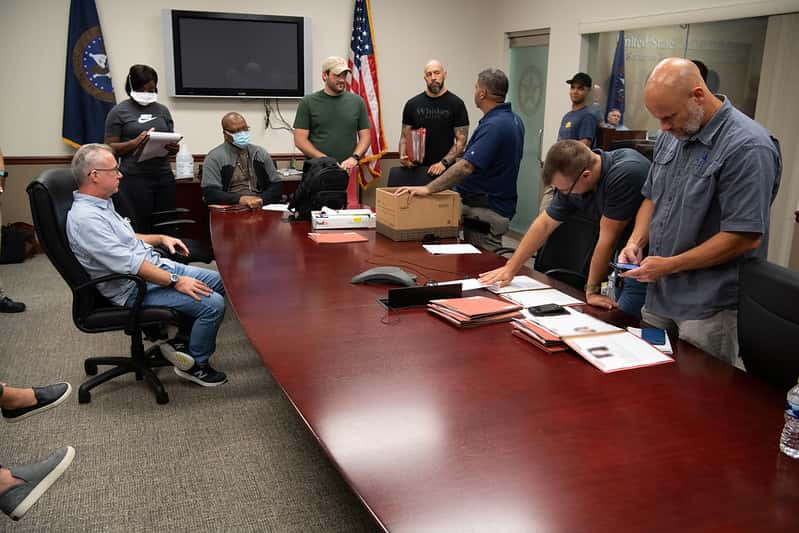 The operation was successful and they rescued 26 endangered children and another 13 missing children. According to the Department of Justice, nine people were arrested. Along with the rescue, 26 arrest warrants were cleared while charges for alleged crimes related to sex trafficking, parental kidnapping, registered sex offender violations, drugs and weapons possession, and custodial interference were filed. The nine people arrested had several warrants filed against them already.
Director of the Marshals Service Donald Washington said, "The US Marshals Service is fully committed to assisting federal, state, and local agencies with locating and recovering endangered missing children, in addition to their primary fugitive apprehension mission." He continued, "The message to missing children and their families is that we will never stop looking for you."
The authorities revealed, "These missing children were considered to be some of the most at-risk and challenging recovery cases in the area, based on indications of high-risk factors such as victimization of child sex trafficking, child exploitation, sexual abuse, physical abuse, and medical or mental health conditions. Other children were located at the request of law enforcement to ensure their wellbeing," reported WSBTV.
Children were found in Gwinnett, Fulton, Clayton, and Forsyth counties among other places as the operation spanned across 20 Georgia counties. In a news press conference, Washington revealed that the rescued children ranged from 3 to 17-years-olds. "One missing child is worth thousands, in my mind, of fugitives that we go out and get," he added, as reported by USA Today.
Darby Kirby, the chief of the Missing Child Unit said, "It's hard to put into words what we feel when we rescue a missing child, but I can tell you that this operation has impacted every single one of us out here."
The National Center for Missing and Exploited Children revealed that the US doesn't have an official count of the missing children since they are "never reporting missing." However, more than 421,000 missing children were reported missing to the FBI.
WSBTV reported that according to Georgia Attorney General Chris Carr, the success of the operation will be measured on "how many lives that we have saved and that will have a new and fresh start." There are other major cities across the countries that have a similar operation going on and yet to be completed. Governor of Georgia, Brian Kemp disclosed the bust via Twitter on August 27.
The nine arrested people are listed below:
1. Moradeyo Amos Bandele – Arrested in Port St Lucy, FL – Warrant for Rape out of Conyers, GA
2. Trayon Moore – Dekalb County – Sex Trafficking and Probation Violation warrants
3. James Garcia – Arrested at a Motel in Clearwater, Fl – Warrants out of Whitfield County, GA – Aggravated Child Molestation, Aggravated Sodomy, and Incest with a Minor
4. Faye Smith – Arrested at a motel in Clearwater, Fl – Warrant for Probation Violation
5. Sally Garcia – Arrested at a motel in Clearwater, Fl – Interference with Child Custody
6. Zachary Bailey – Arrested in Columbus, GA – Human trafficking, Enticing of a Minor for Indecent Purposes, and Enticement of a Minor for Solicitation
7. Stanson Causey – Arrested in Jasper, GA – Registered Sex Offender arrested for Probation Violation
8. Kirk Waters – Arrested in Newton County GA – Felon in Possession of a Firearm
9. Trevonte Shareef – Arrested in Newton County – Interference with custody and obstruction
CBS12 News reported that the operation was the months of intensive planning in coordination with the USMS, NCMEC, Georgia Bureau of Investigation, Georgia Office of the Attorney General, Georgia Department of Family and Children Services, Georgia Department of Juvenile Justice, the FBI and Children's Healthcare of Atlanta.
via IFTTT